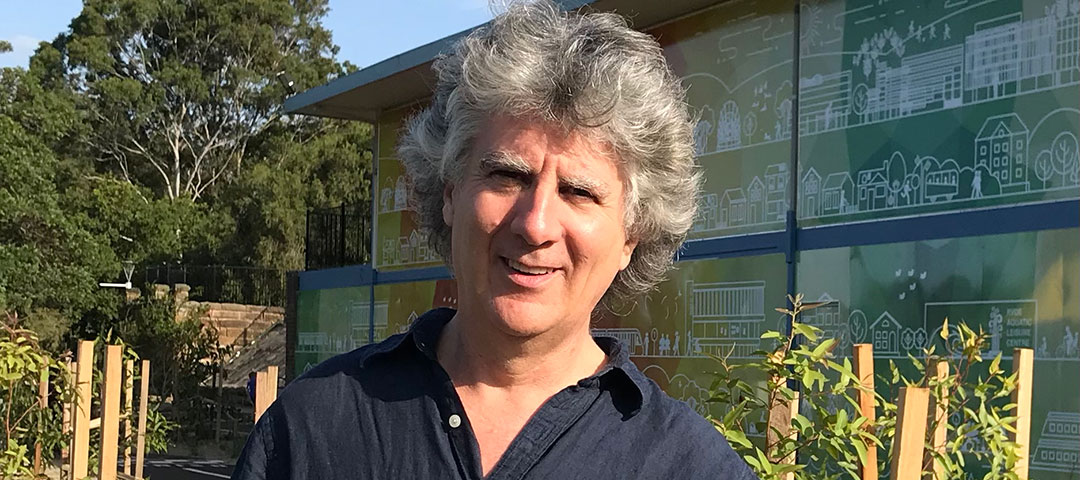 I have lived in Gladesville for fifteen years and am a composer. As a councillor since September 2017 I have brought about significant changes on climate, renewable energy, bush care, arts, resilience, and indigenous recognition.
Issues I want to work on
Climate and the Environment
Australia faces increasing challenges and we must move urgently. While governments drag their feet, local councils are taking action (1,855 around the world have declared a climate emergency). In this term Ryde Council has made a great start. I believe climate and environmental issues must be our key priorities and embedded in all our policies and actions.
Invisible Homelessness
Increasingly people of all ages are finding themselves sleeping in the car or "surfing" couches. This is why I convened a roundtable of representatives from housing, social workers, faith groups, police and schools in 2019. Now, with Council's Social Plan in place, I am eager to move forward on this issue.
Key Worker Affordable Housing
With 10,000 key workers expected to be living in housing stress in Ryde by 2031 we have an affordable housing emergency. In mid-2020, after a three year wait, the State Government rejected Ryde's 2017 Affordable Housing Proposal, so it is back to the drawing board. I believe this issue is of the utmost importance.
The Arts
Ryde is buzzing with artists of all genres and ethnicities; professionals, amateurs, students and community groups. Our Creative Strategy 2019-2024 is now in place, so it is time to bring the arts into focus and celebrate the diverse and exhilarating range of ideas and talent resident in our city.
Achievements since 2017
Since being elected to Council in September 2017 I have successfully
co-sponsored Ryde's target of 100% renewable energy by 2030.
initiated climate emergency declarations by Ryde Council and Local Government NSW.
initiated the divestment of Council funds away from fossil-fuel-aligned institutions.
initiated plans on how best to address the climate emergency in Council policies and operations.
created Council's Renewable Energy Advisory Committee.
initiated Council's conversion toward an electric vehicle fleet.
initiated the installation of electric charging stations.
found $250,000 funding over four years for bushland projects.
found budget to maintain a biosecurity officer (weeds).
created Council's Arts Advisory Committee.
found funding for the new staff position of Arts Administrator.
found significant financial support for the Ryde Hunters Hill Symphony Orchestra.
initiated the installation of a piano at the West Ryde Community Hall.
initiated Council support for the Uluru Statement from the Heart.
initiated Local Government NSW support for the Uluru Statement from the Heart.
secured Council support for the Bennelong Putney Project which resulted in the State Government's purchase for posterity of the grave site of Bennelong, Boorong and Nanberry.
initiated and convened a Homelessness in Ryde roundtable with community representatives.
initiated celebrations for the sesquicentenary (150 years) of Ryde.
With Greens support Ryde Council has achieved
First council in NSW to adopt a local Resilience Plan.
10% reduction of carbon footprint in twelve months.
Banned single-use plastics at all City of Ryde events and operations.
First council in Australia to adopt a target of zero litter to the rivers by 2030.
Council is investigating the recycling of plastic bottle tops, one of the biggest ocean polluters.
Endorsed the Parramatta River Masterplan – improving the health of the river for swimming.
More than 400 trees planted in 2018/19.
Over $1.5m in grants provided to local groups for arts, culture and sport in this Council term.
Orchestra in the Park and musical and arts events at Brush Farm House.
Ryde Battle of the Bands commenced in January 2018.
New urban artwork around the city.
Completion of the Ryde River Walk.
Upgrade of Trim Place and Coulter Street.
Opening of the Gladesville Clocktower restoration.
More street libraries.
Ryde Scooter Track.
Upgrade of West Ryde Plaza.
Bundara Reserve saved.
More than 300 newly listed heritage items, including three heritage conservation areas and two archaeological sites.
Established a Reconciliation Action Plan.
Signed the Refugee Welcome Scroll joining 112 other Australian councils.
Approved the Heart of Ryde (Civic Centre) with a massive 85% approval from the community. It will provide exciting facilities for the arts, culture and community:

700+ seat performance space
Art Gallery
Meeting rooms
Activity rooms
Civic Centre
This has been achieved while maintaining:

100% public ownership
No residential development
No rate increase
No reduction of Council services
My committee roles
Deputy Mayor September 2017 – September 2018
Councillor  September 2017 – present
Chair, Ryde Central Committee (The Heart of Ryde) September 2017 – September 2020
Member, Works and Community Committee September 2017 – present
Member, Finance and Governance Committee  September 2017 – present
Chair, Arts Advisory Committee  September 2017 – present
Chair, Bicycle Advisory Committee  September 2017 – September 2018
Chair, Heritage Advisory Committee September 2017 – present
Chair, Ryde Hunters Hill Joint Library Services Committee September 2017 – June 2020
Deputy chair, Bushland and Environment Committee September 2017 – present
Member, Renewable Energy Advisory Committee September 2017 – September 2020
Deputy chair, Renewable Energy Advisory Committee September 2020 – Present
Delegate, NSROC (North Sydney Region of Councils)  September 2017 – September 2019
Chair, Ryde Hunters Hill Joint Library Services Committee September 2017 – June 2020
Delegate, NSW Public Libraries Association  December 2017 – present
Delegate, Bennelong Putney Project March 2018 – present
The Day Job
In a parallel universe I am a composer who has written for many of the country's major performance groups, including the Sydney Symphony Orchestra, The Australian Ballet, Gondwana Choirs and Synergy Percussion; composed music for Australian and international films such as Mao's Last Dancer, Adoration, Ladies in Black, and Master and Commander; composed music for the opening ceremonies of the Commonwealth Games Melbourne 2006 and Rugby World Cup Sydney 2003 and the official celebration of the Centenary of the Federation of Australia. In the recording studio I have conducted orchestral scores for dozens of films and games, most recently World of Warcraft: Shadowlands and Mortal Kombat.