Th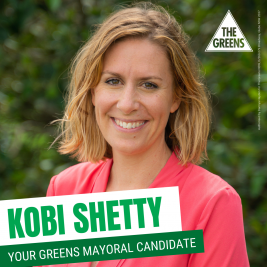 e Inner West Greens are excited to announce Kobi Shetty as the mayoral candidate for the Greens in the Inner West. The candidates have come together and decided by consensus to put Kobi forward. We will be entering discussions with Labor and other councillors in the spirit of our previous decision that we want a progressive, collaborative and cooperative council.
Counting is ongoing, but the new Inner West Council is likely to have at least 8 new councillors on the 15 person council. The previous council was dogged by problems including tensions between councillors, a revolving door of GMs and a divisive council environment.
Kobi Shetty said: "Going forward there is a real need to draw a line under the former council and move ahead with a different approach, with new ideas and new ways of working together. I'm ready to lead that change, and to make sure council is progressive, collaborative and respectful, better reflecting the values of the inner west community."
The Greens are also committed to presenting a strong business case to the NSW government after the community showed clear support for de-amalgamation, with a majority voting yes to demerge in the poll.
Kobi's corporate background is in fraud prevention within large financial organisations, where she has experience dealing with large budgets and looking after big operations teams. With an educational background in community development and sustainability, Kobi's experience and commitment to community will enable her to work with other councillors so that the Inner West Council can be a leader in tackling the climate crisis and create a collaborative space that puts the needs of residents first.