Llynda Nairn
candidate for Cessnock City Council – A Ward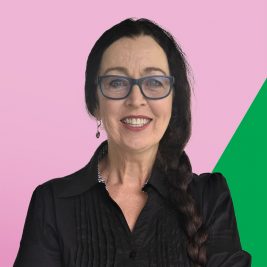 I'm excited to be a Greens Candidate for Cessnock and am eager to work hard for our community to ensure that our people and our environment are considered first.
Millfield became my home five and a half years ago, after many years of touring as a performer in Australia and overseas. This past 25 years I dedicated myself to supporting the school curriculum with award winning performances, and to the well-being of people in aged care though the Arts Health sector. 
First in my family to go to university, I earned a Bachelor of Communications, and coupled with my experience as a performance artist I am well equipped to communicate with people from all walks of life. 
Cessnock is growing, and I want to be a voice for better public transport, and more cycling and walking paths, so that people can get to facilities on offer in Cessnock.
There are plans to build three kilometres of cycling and walking paths in the Cessnock CBD. I also see a need to connect the communities of Millfield, Paxton, Pelton, and  Ellalong with cycling and walking paths too. 
Many of our roads need upgrading. There's a vast difference in the quality of our roads and for everyone's safety we need to commit to bringing them all up to standard.  
People need to be able to exercise their dogs safely. Fenced, off-leash dog parks provide a safe environment  and provide opportunity to engage with others.  Tourism is important in our region, and fenced dog parks could encourage them to  spend more time with us. 
I look forward to meeting as many people as possible, to learn of their ideas for the future development of Cessnock, and to be effective I need your support at the next council election. 
Donate
Unlike Labor and the Coalition, we don't have the pockets of big business.
We have something far more powerful. You.