When most people are asked about how important it is to save heritage, they tend to think simply of old buildings, but I believe it is more important to acknowledge and preserve important Aboriginal First Nations' heritage, to which we owe a great debt and from which we need to learn for a sustainable planet.
There are few places where this is more important than Parramatta. For about 60,000 years, my City of Parramatta Council's local government area (LGA) has been mostly in the custodianship of the Burramattagal, a clan of the Darug Nation. The word Burramattagal is derived from the Aboriginal word for 'place where the eels lie down' to breed in the Parramatta River. Thus our local rugby league's club name "the Eels".
As a Councillor, I have always sought to reflect and, in strategic planning, embrace the rich culture and heritage of the Darug people, and their deep
connection to the River.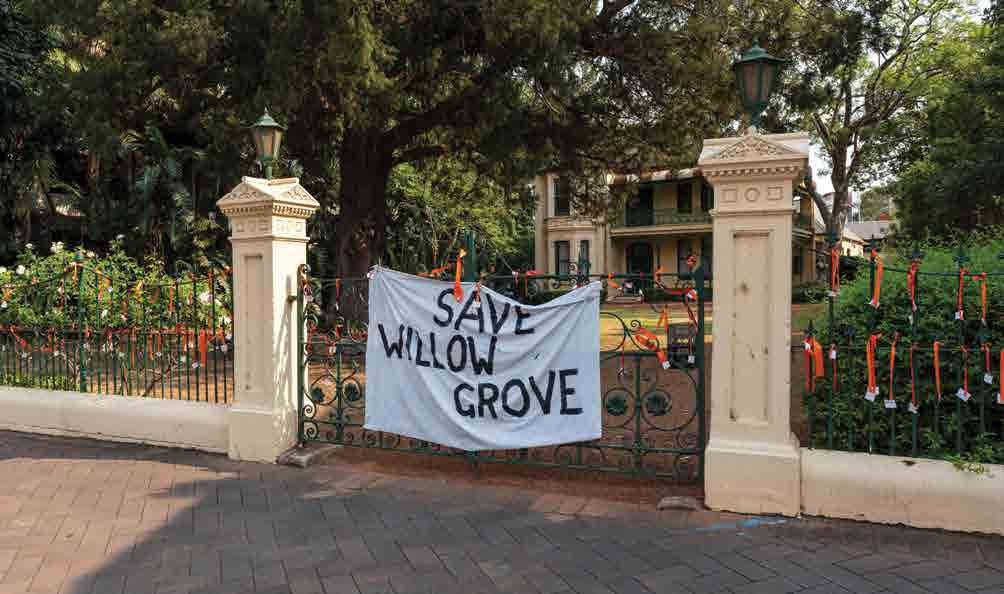 To do this, I constantly draw on my knowledge and experiences from being President of the Reconciliation for Western Sydney group for 20 years, and a member of the Council's Aboriginal and Torres Strait Islander Advisory Committee for 10 years. I have great respect for the ongoing contribution of our local Western Sydney Darug people and always seek to have their proud history represented and preserved across the LGA. This continues to be done by Council by having a Welcome or an Acknowledgement of Country at meetings and public events, and flying the Aboriginal and Torres Strait Islander flags. Unfortunately, there are still some who seek to undermine this proud tradition and as such we always need to be vigilant in seeking support to prevent this happening.
Two recent examples of this have been the refusal of most councillors to consider Darug names put forward for our new civic building in Parramatta Square, and the refusal of our State Government to respect the wishes of our Darug community (and most councillors) to preserve the historic Willow Grove heritage building, which is threatened with demolition for the Parramatta Museum commercial development. This beautiful Italianate Willow Grove was once a hospital, with a rare history in the Parramatta area as a place where the local Darug people were respected and treated as equals to European patients. Along with North Parramatta Residents Action Group (NPRAG) and unions with their Green Ban, I have also strongly supported the protection of local heritage gem Willow Grove and St George's Terrace from demolition for the museum development.
Parramatta is also significant as the second European settlement (or invasion from the Darug perspective) in Australia in 1788. Parramatta Park, with its Old Government House and Domain, is a UNESCO World Heritage Listed site.
The Parramatta LGA has some 70 items of State Heritage significance and over 1,300 items of local heritage significance. Other sites of high heritage value include Elizabeth Farm, Experiment Farm, Lancer Barracks, St John's and St Patrick's Cathedrals, Roxy Theatre and the Female Orphan School. A number of heritage conservation areas protect the local historic character of specific areas, but I have had to lobby hard to get the majority of councillors to save some of these areas from being overshadowed by 29-storey towers. Heritage sites cluster around Parramatta and the older established suburbs. I have voted to reduce or prevent detrimental heritage impacts from numerous overdevelopment proposals in these areas.
There has also been a long community campaign to have the iconic 1821 Parramatta Female Factory Precinct granted National Heritage Listing and then have long overdue UNESCO World Heritage Listing. Groups involved included Parra Girls, the Parramatta Female Factory (PFF) Friends and NPRAG. I also involved Greens MPs David Shoebridge and Jamie Parker, and then Senator Lee Rhiannon to ask incisive questions in the Senate to promote this. I lobbied local State MP Dr Geoff Lee too and was particularly proud that my first major success on Council was having a motion carried that required Council to urgently lobby the NSW Minister for Planning and the Federal Minister for Environment (and Heritage) to support the long overdue National Heritage Listing for the North Parramatta Female Factory Precinct. The Greens, ParraGirls, the PFF Friends and NPRAG were jubilant when within two weeks, the Federal Minister announced the well deserved National Heritage Listing for the historic site. Now we need to campaign for World Heritage Listing before the adjoining high-rise development proposal damages the site's high heritage value.
This PFF campaign clearly shows how persistent, passionate campaigning by community can win against the power of state and federal governments. To strengthen these campaigns though, we need to elect more Greens councillors to put pressure on governments to act democratically in the public interest.
Phil Bradley is a councillor in Parramatta.
Donate
Unlike Labor and the Coalition, we don't have the pockets of big business. We have something far more powerful. You.
Voting for The Greens is one of the most powerful things you can do to take action in saving the planet, creating transparency in government, and electing representatives who care about equality.