Protect forest AND create jobs at the same time.
Eurobodalla Greens are demanding an immediate end to all logging of Mogo State Forest so that the forest landscape can recover and be managed as a world-class mountain bike facility.
The bushfires of black summer hit the region around Mogo particularly hard wiping out not only huge numbers of native wildlife but also the economic base of the town itself.
Mogo, on the New South Wales south coast, is a heavily tourist dependent town. So in 2020 when the local member, himself a mountain bike rider, announced $3 million of government funding for an adventure trails network centred on the town he was met with cautious optimism. Council pledged another $750,000 and a company was engaged to develop the plan and construct the trails. Within the footprint of the project are forests which haven't been recently logged so provide a very appealing natural experience full of hollow bearing trees and surviving wildlife through which people can walk or ride. These remaining unlogged sections need to remain unlogged if the project is to attract visitor numbers high enough to achieve the economic viability of the project. Contrary to the best scientific advice available post-fire logging did resume in these forests in April 2021.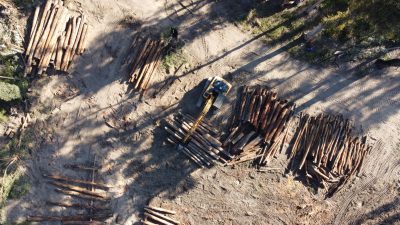 Will you sign our petition urging the New South Wales government to intervene to protect Mogo state forest?
Dear Premier,
Dear Premier, We demand that you intervene to protect the viability of the fledgling Mogo Adventure Trails Hub to which your government has already granted $3 million in funding and the local Eurobodalla Shire will co-fund at 25% of the State government contribution. 
We urge you to instruct the NSW Forestry Corporation to set aside all current and planned logging of Mogo State Forest in order to protect and enhance the natural asset base of this important initiative in the economic recovery of the fire-devastated Mogo district.
Yours for a better and cleaner planet,
Disclaimer: After signing this petition, you may be contacted by the Greens NSW.
"Post fire logging of the very forest we are promoting as a mountain bike destination is shooting ourselves point-blank in the foot by sabotaging a great local economic recovery project."
— Alison Worthington, lead candidate for Eurobodalla Council.