Say No to leasing Katoomba airfield
Say no to increased air traffic over the Blue Mountains, and harm to Katoomba bushland: Katoomba Airfield mustn't be leased and developed.
Developers are trying to take over the Katoomba Airfield.
An application to lease Katoomba Airfield to a developer is currently being re-assessed by the NSW government. Helicopters buzzing above our City within a World Heritage area will impact the native environment and the villages of Katoomba, Medlow Bath and Blackheath, and compromise tourist's experience at some of our most beloved destinations.
The last time the application was assessed, more than 85% of the submissions during the consultation opposed it. We are calling on the NSW government to listen to the community and reject the application.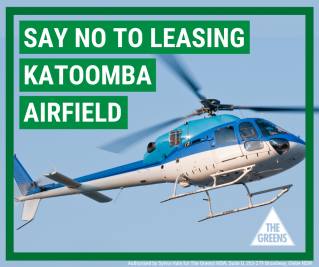 The community told the government, "No Development", once — and now it's time to tell them again: sign our petition.
Dear Minister Pavey,
Developing Katoomba Airfield will affect Blue Mountains residents' quality of life, and our natural environment.
A decision was made to reject the development Katoomba Airfield and we want to see this decision upheld. Of the more than 1500 submissions received during the first consultation, more than 85 per cent opposed the lease application and only 13 per cent were in support or offered conditional support.
We ask the government to respect the community response and provide funding for National Parks to remediate the airfield and incorporate it into the National Parks estate.
Best regards,
Disclaimer: After signing this petition, you may be contacted by the Greens NSW.
"We ask the state government to stand by the overwhelming response from the community that the airfield not be leased and developed"
– Dr Sarah Redshaw, Candidate for Ward 1, Blue Mountains City Council