Ludovico Fabiano
candidate for Waverley Council, Waverley ward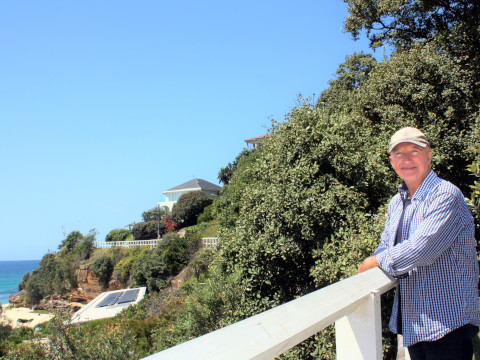 I have been living in Bondi for 27 years with my wife Robyn. I enjoy the Bondi lifestyle of sun, beach, parks, coastal walks, cycling and dog walking. You may have seen me around Bondi walking with my two precious border collies, Blue and Bob.
I am engaged in my local community through my volunteering in South Bondi Tamarama Precinct and Waverley Council Multicultural Advisory Committee. Involvement with the local community is very important to me and one of the best ways to guarantee good outcomes for our neighbourhood. I was active in the campaign to prevent rezoning of the Bondi Rd shops. I am working in my local neighbourhood to expand community gardens.
I came to Australia as a child from Italy in the 1970s. I have Italian and Russian/Ukrainian heritage. In my professional life, I have worked in industry in quality & regulatory control.
If I am elected as your Waverley Ward Councillor I will work to:
Bondi Road

Keep our shops and services local and support pedestrians and cyclists

Heritage not height – encourage neighbourhood friendly planning

Local liveability, reduce waste, go plastic-free

Take local action on climate change

Resilient community infrastructure including a microgrid on Bondi Road 

Solar panels on Waverley Woollahra Art School

Enrich Waverley's cultural life 

Support creative life at Bondi Pavilion

Support the artistic community at WWAS 

Expand Affordable housing 

Tamarama Beach & Gully

Maintain marine biodiversity

Weed removal of Tamarama park with Indigenous planting

Maintain the Greens commitment to grassroots community engagement and transparent local council decision making 
"Waverley is under siege from overdevelopment. I will fight to protect the community interest."
Greens Achievements 
Despite the demands of the COVID-19 pandemic, our Council kept all staff employed, maintained services, provided financial support to local charities and businesses and will end the year with a small surplus.
Initiated and supported the Waverley Park community garden

Reduced Council's investment exposure to fossil fuels

Supported the renovation of Tamarama Surf Club 
Donate
Unlike Labor and the Coalition, we don't have the pockets of big business.
We have something far more powerful. You.