Your vote for Greens on Eurobodalla Shire Council will be a vote for:
• Accountability from Council
• Liveability – vibrant and resilient communities &
• Environmental Responsibility
We're often asked 'Why should we have political parties in local government?' and 'Why the Greens?'
Independents do great work in all tiers of government and we're really looking forward to seeing more progressive and genuinely independent councillors here in the Eurobodalla. However, we do have a history here of party members standing as Independents and not declaring their membership or affiliation to a registered political party. This can make it difficult to know who such a councillor is really representing.
We are proudly Green and for the sake of transparency ask that all candidates declare their political affiliations.

We know that ethically representing your community and holding membership to a political party are not mutually exclusive positions.
Both can be done at the same time.
When voting for a Greens candidate, you know exactly what you're getting – someone who is open and transparent about their affiliations, who is committed to local democracy and who brings strong progressive values you can count on.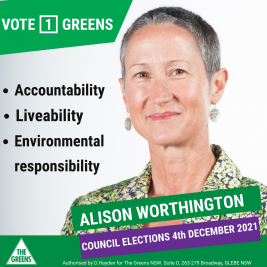 The Greens are driven by the principles of environmental sustainability, social and economic justice, peace and non-violence and grassroots democracy.
Greens' voters expect their candidates to vote in a way that is aligned with these principles and will hold them accountable to those principles.
The Greens have a commitment to participatory democracy. Instead of 'I was elected to decide for you', Greens councillors believe 'I was elected to make sure you get an opportunity to be consulted and have input into decisions'.
Our plans and priorities for Eurobodalla Shire, and all decisions made by elected Greens representatives in local government, are made in consultation with the community and in the best interests of our community. Councillors, no matter their party affiliations, are bound by the Local Government Act to act in the best interests of their community.
Community first. Not the party, not the party leaders in Sydney or Canberra, and certainly not property developers or corporate donors.