Local campaigning on synthetic turf
Over the last year my neighbours and I have been fighting against the installation of a synthetic field at Gardiner Park in Banksia, Inner South Sydney.
We initially spoke up against the project because a fenced synthetic field would restrict access to the park. Drainage works to accommodate the synthetic surface would leave very little open space for general use. We did a lot of research online and began to connect with other similar campaigns across Sydney (for example, please sign the Natural Turf Alliance petition against synthetic on change.org).
To our horror, the collective research began to identify a growing number of studies showing that synthetic grass has negative environmental and health impacts and is more expensive to maintain than natural grass.
Synthetic fields shed microplastics from broken grass blades and carcinogenic substances from the crumb rubber infill. The crumb rubber, from ground-up car tyres, is used to hold up the blades of plastic and keep the field bouncy. It ends up in players' shoes and clothing, exposing them to a range of toxic substances. Gardiner Park also sits in a floodway, some of which leads through the backyards of our neighbours. These substances will thus be caught in our neighbours' backyards on their way into Botany Bay.
While installations of synthetic fields are increasing in number around Australia, the European Union is considering restricting their use. Last June the European chemical agency (ECHA) Risk Assessment Committee finalised their advice to the European Parliament to restrict intentional uses of microplastics, including the rubber infill in synthetic fields. If the European Parliament endorses the advice, a ban will be introduced over six years to allow sports clubs and the firms who install and maintain the fields to develop alternatives. There is no reason the Australian Government cannot consider a similar ban, as m icroplastics are just as damaging to our Australian environment. Furthermore, there are no facilities to recycle the plastic at the end of its useful life. As a result, tonnes of rolls of spent plastic grass are accumulating around the world.
While natural grass cools the ground, synthetic grass absorbs and radiates heat. A study from the University of Western Sydney shows that on a hot day, synthetic grass becomes hotter than bitumen. According to Football NSW, synthetic fields should not be used if the temperature is above 32 °C. At that temperature, the field can be 45 degrees and cause heat stress, especially for children. Children cannot regulate their temperature as well as adults, and their heads are much closer to the ground. They are thus much more susceptible to heat illnesses from hot synthetic surfaces.

The expense of maintaining synthetic fields results in equity problems and less publicly accessible green open space. Synthetic fields are expensive to maintain and eventually need to be replaced. Some soccer clubs cannot afford to pay for this (as evidenced in Bayside Council Sport and Recreation Committee minutes). Ratepayers will pay for the upkeep of a space they have no access to unless they play soccer. The cost of maintenance and replacement will need to be covered by ratepayers unless the fields are commercialised. If monetised, ratepayers will pay less of the cost of maintenance, but residents will be left with even less green open space to walk through and enjoy.
Ratepayers' money should be spent equitably to support a variety of sports and other uses of public space, not just soccer. If elected, The Greens will ensure that Bayside Council conduct a sports and recreation study to understand the needs of all residents, and make sure that funds are allocated to a variety of these needs. Bayside LGA is host to beautiful green spaces, waterways, and unique ecological communities, including wetlands, creeks, bushland, and beaches. Vote Greens to reduce toxic substances harming our beautiful environment while making sure that we can continue to access and enjoy our public green open space.
Greta Werner is a candidate for Bayside.
Donate
Unlike Labor and the Coalition, we don't have the pockets of big business. We have something far more powerful. You.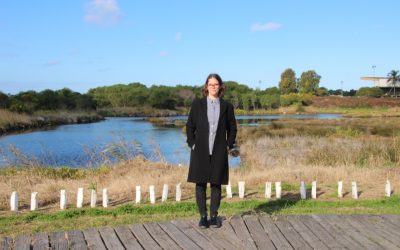 Bayside Council is in the process of redeveloping Barton and Riverine Parks. This is welcome news for residents, but we are concerned that the development does not sufficiently protect our wonderful waterways and wetlands. Landing Lights and Eve Street Wetlands are...
read more
Voting for The Greens is one of the most powerful things you can do to take action in saving the planet, creating transparency in government, and electing representatives who care about equality.